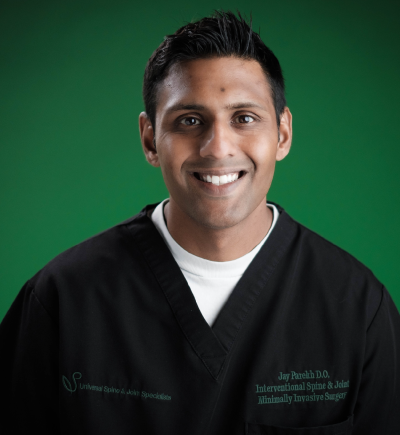 Greetings, thank you for visiting Universal Spine and Joints Specialists. My name is Jay Parekh and hopefully I will have the privilege of being your doctor. I was born in Detroit and then later moved to just outside of Chicago. After completing my undergraduate degree at the University of Michigan, I attended Chicago College of Osteopathic Medicine, embracing a holistic approach to medicine early in my career. Following, medical school, I completed my Anesthesiology residency at Hahnemann University Hospital in Philadelphia, where I was elected by the department to be chief resident. Then, I practiced obstetrics, general, vascular, trauma, and regional anesthesia as Associate Professor at Temple University Hospital. Subsequently, I completed my fellowship learning minimally invasive procedures under the tutelage of Dr. Ramamurthy, a founding father of minimally invasive procedures at The University of Texas Health Science Center in San Antonio. Finally, I decided to settle down in my wife's hometown of Tampa.
Alleviating suffering is a passion to me and healing is my ultimate goal. Some conditions can be simple to treat, but others can be very challenging. I will do everything I can to alleviate your suffering. I welcome patients to challenge me and other physicians who manage their care. Do not be afraid to ask questions and request explanation of your care; after all it is your health. We make no promises or guarantees in our treatments, we offer hope and honesty. Finally, Universal Spine and Joints Specialists believe in a team approach, involving the patient, patients loved ones, treating physicians, and ourselves to formulate a plan that meets your personalized needs.
I believe in the power of learning and educating. I am actively involved in societies, staying up to date with the latest advances in minimally invasive This allows me to provide the best care for my patients. Teaching is another passion of mine and on occasion you may find a medical student shadowing me in the clinic. Educating patients and their families is an essential part of the treatment plan.
In my personal life, I enjoy spending time with my family, playing golf, watching sports, getting out on the water, traveling, and being active.