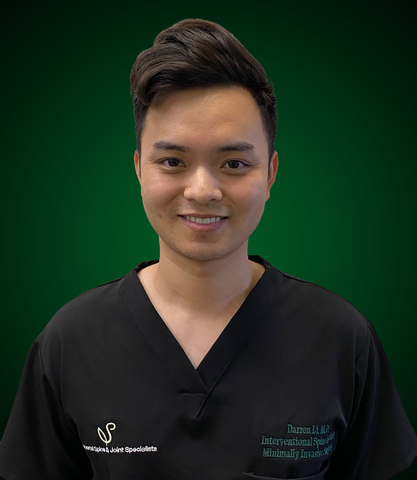 Hello! I'm Dr. Li and I hope that we will have the opportunity to work together to address your spine and joint issues. To give a brief background introduction, I was born in Shanghai, China but also spent significant time living in Toronto and Detroit. After completing my undergraduate at Rice University, I had the opportunity to attend medical school with the "Leaders and Best" at the University of Michigan. I had the privilege of continuing my education with the University of Michigan for my residency and subspecialty training in minimally invasive procedures under the guidance and mentorship of top clinicians and researchers in the field. Eventually, I joined the wonderful team at Universal Spine and Joint Specialists.
Combining my knowledge of modern, traditional, and alternative medicine options, I have developed a holistic philosophy when it comes to treating suffering. My goal is to focus on each issue individually, but also to take a step back and address the whole person. I welcome all inputs from the patient, friends, and family as there are many ways to reach the same goals but picking the right one for you is most important!
In my free time, I am an avid home chef, global traveler, and hiker.