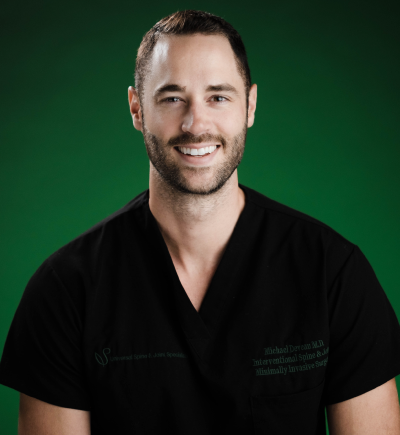 Welcome to Universal Spine and Joint Specialists. I know that suffering can be debilitating and can affect your work and personal life in many different ways. My goal is to help alleviate your symptoms. I am passionate about reforming health care to be less focused on medication when people are sick, and more focused on optimizing health. I perform effective, minimally invasive procedures that get to the source of your symptoms. This allows me to identify the cause of your suffering and address the problem to provide relief.
Although sometimes a patient's case can be straightforward, other times it can be quite complex. I will do everything possible to identify and treat your source of suffering in hopes improving your quality of life and reduce your suffering. I am happy to address questions or concerns during our time together.
I attended Baylor College of Medicine, a private medical school located in the middle of the world's largest medical center in Houston, TX. I went on to complete my residency training as Chief Resident at the University of Pennsylvania in Occupational Medicine in Philadelphia. Afterwards, I completed my fellowship learning minimally invasive procedures focused on the spine and joints.
The unique combination of Occupational Medicine and being able to perform minimally invasive procedures allows me to effectively evaluate the injured, formulate a plan, and treat their injuries.
In my free time I enjoy spending time with my family, scuba diving, playing guitar, working out, and traveling.